Hello,
I own these 2 MIDI devices which are connected to my Windows 10-PC via USB (each has its own usb connection):
Novation Bass Station II
Novation Launchkey 37 MK3
For the Bass Station II only receiving MIDI is necessary.
I use it to control Omnisphere 2 (great Hardware support for BS2).
For the Launchkey MIDI in is important but also MIDI-Out to program its Pads (colors) and the LED.
As a DAW I use Presonus Studio One 5.
I read the page 19/20 of the BOME manual, but I'm not sure if I set up everything correctly.
Basically it works, but that doesn't automatically mean it's fine.
This is how it is now: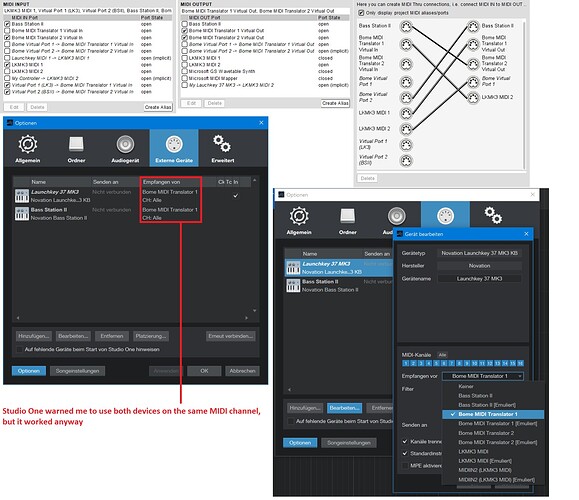 If I use two devices, does it automatically mean I need 2 virtual MIDI ports?
I created Aliases but didn't use them yet, but I would like to because in the DAW it would be easier to assign.
Thanks for any help and best regards!