Hi, I've recently run into a problem with remapping the Fire's note outputs in drum mode. Since Python scripting was introduced, I've avoided it because I would need to be a Python expert to be able to make the changes I want. But now I don't have a choice because this note remap problem is serious.
I've been working on the script, but nothing I do is working. Also want to do other changes like read and display the pad colours from the plugin per preset change.
I see that some on this forum have been configuring this controller as far back as three years ago.
The mention of using a Thru port makes me wonder if I can use a hybrid config of Python and MTP. But the pad colours is still beyond me right now.
Was thinking of a signal flow like this: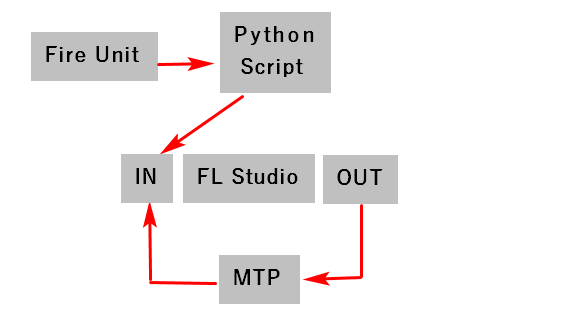 I don't even know what my question is right now. Just at a loss of how to proceed. I could potentially fix all this within the Python script, but you are aware of how much work that would be to learn the language just to fix a single controller. Ugh.
A couple guys have made Python scripts that can do things I want to do, but they are different configs. I would want my own custom script. These are professional programmers; they know how to use Python, and I don't.
I could probably fix my issues using MTP only, but then I lose all the other great features of this unit.