I have a BomeBox with Ethernet cable on a Mac.
There is no Midi Translator file loaded.
In the web interface, I have set two routes bidirectionally between two effect units and the Mac.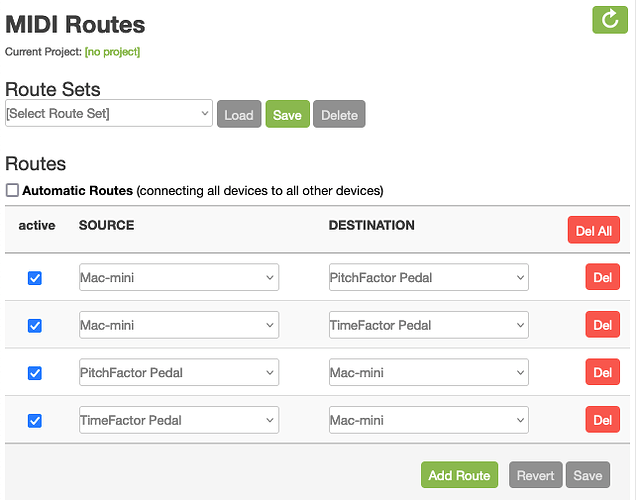 On the computer I am working on a Max application.
The current function:
When I change the program directly on a unit, the Program Change comes to Max and triggers a program dump request to that unit. This sends me the current parameter data.
What bothers me is the output of the MIDI monitor: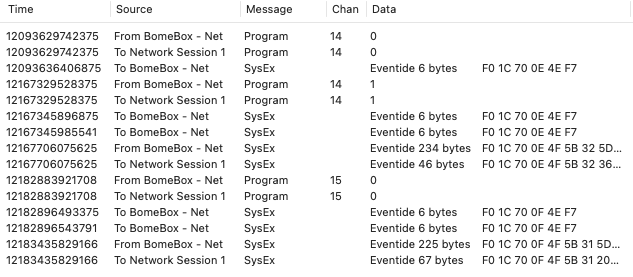 What is this 'Network Session 1'?
BomeBox thinks this is an alias of 'Mac-mini' or vice versa. I don't send anything there, from Max I only send to the MIDI port 'BomeBox - Net'. Despite this, I see program changes and garbled SysEx strings (without EOF) with different lengths, which I supposedly send to 'Network Session 1'. But I do not. Where can this come from?
Additionally I noticed that the lines in the MIDI monitor multiply after a while of work. First I get everything displayed twice, then more and more, until I finally have to restart the application. Could this have something to do with what I described above?
Maybe there is an unwanted echo somewhere that is causing the problems. The MIDI monitor can't invent that I send something to a port that I don't even know …
I have attached the Bome Network.log here. In it you can see that I restart the BomeBox and then quit and restart Bome Network. Maybe you can see something else that I don't understand and that is not normal.
Bome Network.log.zip (1.5 KB)