Hallo Steven, as suggested in your mail I may post my question here:
I have downloaded the test version of your software and it works fine. Anyhow, the VSTis are not able to "learn" the converted controller-messages whenever I select a virtual knob and start the correlated "learn MIDI" function. The VSTis also do not react in another way on the converted data. I use hardware controllers by DTRONICS that were designed for editing the Yamaha DX-7 and Roland D-50 series and want to convert their system exclusive messages into MIDI-CC data, that can be used to edit VSTi-Instruments. The idea is that the VSTis also would be able to identify and "learn" the dozens of knobs, that each controller offers, automatically! The system controller message looks like this (I also enclose a screenshot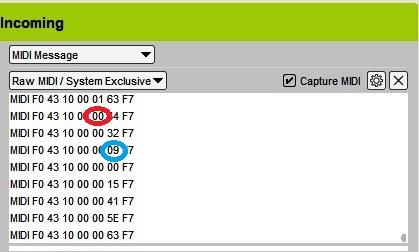 of your software): MIDI F0 43 10 00 01 63 F7 (of course it's MIDI F0 41 … ) in the case of the Roland related product). I would like to use the positions "63" and also "01" in this specific example to control the VSTis (blue or red circle → screenshot). Thank you very much for your assistance once more!