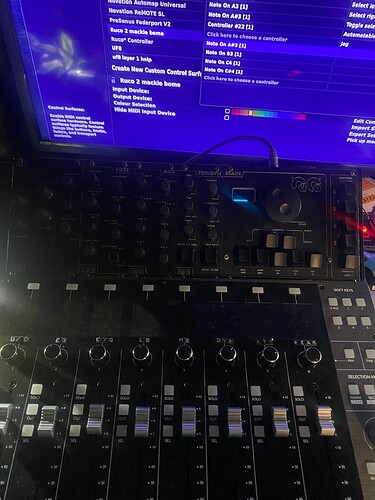 This midi controller consist of 29 endless Knobs in witch I need to make them be absolute
value. The encoders start with a value of 52% on the left turn and 2% on a right turn. I can get the Knobs to work smooth when turning to the right From using the method from Steve's video and a little tweaking of the rules to get these values to work smooth with my encoders, but it will only go back from the right at 100% to a value of 51% and 3% to the left from 100% right. And also the Jog wheel witch also seems to act in thee same way. Some of the knobs CC values overlap. The Raw midi is (BO 10 threw BO 17). There are also buttons on most of the encoders that also overlap in midi data witch show a midi cc of (90 20 threw 90 27) Is there a way to change the encoders and buttons having the same midi data from each other and also the controller has a screen that works perfect for what it was designed for Witch is Harrison Mix Bus software in witch it is ran by using the Mackie protocol in Mix Bus How ever the Mackie settings they use doesn't match with the DAW I a using witch is Traction Waveform. So When I select the Mackie protocol in Waveform the Knobs are no where near usable in this manner. The knobs are all over the place. I would like to give each encoder its own midi CC and each button on the encoders its own midi CC while showing all the value of changes on the Oled screen. Is there someone here for the job.
In the uploaded preset for my Bome project you can see the method I used to get the Knobs to work when turning rigt.
Ruco+.txt
(2.1 KB)