Hi all,
I am using mid translator Pro, to make my keyboard (Technics KN 1000) behave like a GM instrument.
I am playing midi files in Cakewalk (GM) --> Midi - Translator Pro (KN 1000) --> KN 1000 keyboard.
Mid translator Pro does the following:
Change GM Program change messages into KN 1000 messages
128 translators
Change DRUM channel 10 GM note on/off into KN 1000 note on/off messages
100 translators (on/off instruments)
All translators have the option "stop processing after executing this translator" checked.
It's working pretty well.
I have now one midi file from the Eagles (Tequila Sunrise) which has a drum section having 4 notes on / off at the same time.
This the event list in Cakewalk: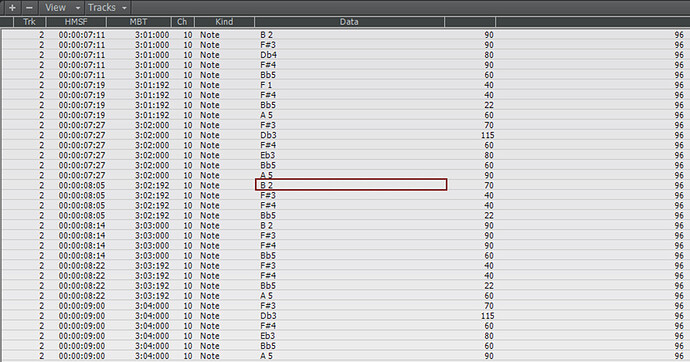 At the same time, 4 notes on are sent in a very short period and it repeats again.
If I disable the preset, then the keyboard plays all notes on channel 10, but of cause with the wrong instruments.
Midi translator does not process all note on /off events, this cause problem on the keyboard:
wrong instrument
it stops playing after 8 note on messages (max. 8 supported by keyboard), because it does not receive the corresponding note off message.
How can this be solved?
This is the log window from Midi Translator Pro:
1: MIDI IN [Bome MIDI Translator 1 Virtual In]: C9 00
2: IN 2.0 Program Change on any channel=10 set 'pp' to ch. with program:0 (0x00)
3: MIDI OUT [iRig MIDI 2]: B9 00 00 B9 20 00 C9 00
4: OUT 2.0 Bank Change on ch.'pp'=9 (ch.10) with bank#:0 (0x00) and program:0 (0x00)
5: MIDI IN [Bome MIDI Translator 1 Virtual In]: 99 23 5A
6: IN 1.0 Note On on ch. 10 with note:35 (0x23) and any velocity set 'pp' to velocity=90
7: MIDI OUT [iRig MIDI 2]: 99 25 5A
8: OUT 1.0 Note On on ch. 10 with note:37 (0x25) and velocity:pp=90
9: MIDI IN [Bome MIDI Translator 1 Virtual In]: 99 2A 5A
10: MIDI OUT [iRig MIDI 2]: 99 2A 5A
11: MIDI IN [Bome MIDI Translator 1 Virtual In]: 99 31 50
12: MIDI OUT [iRig MIDI 2]: 99 31 50
13: MIDI IN [Bome MIDI Translator 1 Virtual In]: 99 36 5A
14: MIDI OUT [iRig MIDI 2]: 99 36 5A
15: MIDI IN [Bome MIDI Translator 1 Virtual In]: 99 46 3C
16: MIDI OUT [iRig MIDI 2]: 99 46 3C
17: MIDI IN [Bome MIDI Translator 1 Virtual In]: 99 46 00
18: IN 1.71 Note Off on ch. 10 with note:70 (0x46) and any velocity set 'pp' to velocity=0
19: MIDI OUT [iRig MIDI 2]: 89 49 00
20: OUT 1.71 Note Off on ch. 10 with note:73 (0x49) and velocity:pp=0
21: MIDI IN [Bome MIDI Translator 1 Virtual In]: 99 31 00
22: IN 1.29 Note Off on ch. 10 with note:49 (0x31) and any velocity set 'pp' to velocity=0
23: MIDI OUT [iRig MIDI 2]: 89 33 00
24: OUT 1.29 Note Off on ch. 10 with note:51 (0x33) and velocity:pp=0
25: MIDI IN [Bome MIDI Translator 1 Virtual In]: 99 23 00
26: IN 1.1 Note Off on ch. 10 with note:35 (0x23) and any velocity set 'pp' to velocity=0
27: MIDI OUT [iRig MIDI 2]: 89 25 00
28: OUT 1.1 Note Off on ch. 10 with note:37 (0x25) and velocity:pp=0
29: MIDI IN [Bome MIDI Translator 1 Virtual In]: 99 2A 00
30: IN 1.15 Note Off on ch. 10 with note:42 (0x2A) and any velocity set 'pp' to velocity=0
31: MIDI OUT [iRig MIDI 2]: 89 30 00
32: OUT 1.15 Note Off on ch. 10 with note:48 (0x30) and velocity:pp=0
33: MIDI IN [Bome MIDI Translator 1 Virtual In]: 99 36 00
34: IN 1.39 Note Off on ch. 10 with note:54 (0x36) and any velocity set 'pp' to velocity=0
35: MIDI OUT [iRig MIDI 2]: 89 31 00
36: OUT 1.39 Note Off on ch. 10 with note:49 (0x31) and velocity:pp=0
37: MIDI IN [Bome MIDI Translator 1 Virtual In]: 99 2A 28
38: MIDI OUT [iRig MIDI 2]: 99 2A 28
39: MIDI IN [Bome MIDI Translator 1 Virtual In]: 99 36 28
40: MIDI OUT [iRig MIDI 2]: 99 36 28
41: MIDI IN [Bome MIDI Translator 1 Virtual In]: 99 46 16
42: MIDI OUT [iRig MIDI 2]: 99 46 16
43: MIDI IN [Bome MIDI Translator 1 Virtual In]: 99 45 3C
44: MIDI OUT [iRig MIDI 2]: 99 45 3C
45: MIDI IN [Bome MIDI Translator 1 Virtual In]: 99 45 00
46: IN 1.69 Note Off on ch. 10 with note:69 (0x45) and any velocity set 'pp' to velocity=0
47: MIDI OUT [iRig MIDI 2]: 89 47 00
48: OUT 1.69 Note Off on ch. 10 with note:71 (0x47) and velocity:pp=0
49: MIDI IN [Bome MIDI Translator 1 Virtual In]: 99 2A 00
50: IN 1.15 Note Off on ch. 10 with note:42 (0x2A) and any velocity set 'pp' to velocity=0
51: MIDI OUT [iRig MIDI 2]: 89 30 00
52: OUT 1.15 Note Off on ch. 10 with note:48 (0x30) and velocity:pp=0
53: MIDI IN [Bome MIDI Translator 1 Virtual In]: 99 36 00
54: IN 1.39 Note Off on ch. 10 with note:54 (0x36) and any velocity set 'pp' to velocity=0
55: MIDI OUT [iRig MIDI 2]: 89 31 00
56: OUT 1.39 Note Off on ch. 10 with note:49 (0x31) and velocity:pp=0
57: MIDI IN [Bome MIDI Translator 1 Virtual In]: 99 46 00
58: IN 1.71 Note Off on ch. 10 with note:70 (0x46) and any velocity set 'pp' to velocity=0
59: MIDI OUT [iRig MIDI 2]: 89 49 00
60: OUT 1.71 Note Off on ch. 10 with note:73 (0x49) and velocity:pp=0
61: MIDI IN [Bome MIDI Translator 1 Virtual In]: 99 2A 46
62: MIDI OUT [iRig MIDI 2]: 99 2A 46
63: MIDI IN [Bome MIDI Translator 1 Virtual In]: 99 25 73
64: IN 1.4 Note On on ch. 10 with note:37 (0x25) and any velocity set 'pp' to velocity=115
65: MIDI OUT [iRig MIDI 2]: 99 2F 73
66: OUT 1.4 Note On on ch. 10 with note:47 (0x2F) and velocity:pp=115
67: MIDI IN [Bome MIDI Translator 1 Virtual In]: 99 36 3C
68: MIDI OUT [iRig MIDI 2]: 99 36 3C
69: MIDI IN [Bome MIDI Translator 1 Virtual In]: 99 27 50
70: MIDI OUT [iRig MIDI 2]: 99 27 50
71: MIDI IN [Bome MIDI Translator 1 Virtual In]: 99 46 3C
72: MIDI OUT [iRig MIDI 2]: 99 46 3C
73: MIDI IN [Bome MIDI Translator 1 Virtual In]: 99 45 5A
74: MIDI OUT [iRig MIDI 2]: 99 45 5A
75: MIDI IN [Bome MIDI Translator 1 Virtual In]: 99 45 00
76: IN 1.69 Note Off on ch. 10 with note:69 (0x45) and any velocity set 'pp' to velocity=0
77: MIDI OUT [iRig MIDI 2]: 89 47 00
78: OUT 1.69 Note Off on ch. 10 with note:71 (0x47) and velocity:pp=0
79: MIDI IN [Bome MIDI Translator 1 Virtual In]: 99 25 00
80: IN 1.5 Note Off on ch. 10 with note:37 (0x25) and any velocity set 'pp' to velocity=0
81: MIDI OUT [iRig MIDI 2]: 89 2F 00
82: OUT 1.5 Note Off on ch. 10 with note:47 (0x2F) and velocity:pp=0
83: MIDI IN [Bome MIDI Translator 1 Virtual In]: 99 36 00
84: IN 1.39 Note Off on ch. 10 with note:54 (0x36) and any velocity set 'pp' to velocity=0
85: MIDI OUT [iRig MIDI 2]: 89 31 00
86: OUT 1.39 Note Off on ch. 10 with note:49 (0x31) and velocity:pp=0
87: MIDI IN [Bome MIDI Translator 1 Virtual In]: 99 2A 00
88: IN 1.15 Note Off on ch. 10 with note:42 (0x2A) and any velocity set 'pp' to velocity=0
89: MIDI OUT [iRig MIDI 2]: 89 30 00
90: OUT 1.15 Note Off on ch. 10 with note:48 (0x30) and velocity:pp=0
91: MIDI IN [Bome MIDI Translator 1 Virtual In]: 99 46 00
92: IN 1.71 Note Off on ch. 10 with note:70 (0x46) and any velocity set 'pp' to velocity=0
93: MIDI OUT [iRig MIDI 2]: 89 49 00