Hi,
I am trying to set up remote midi ports in Bome Network for the BomeBox.
I have a couple midi ports selected for remote midi, which created some virtual ports.
These are from the iConnectMIDI4+ connected to the BomeBox.
I have "Remove Virtual Port on Disconnect" disabled, this seems to cause an issue.
When I unplugged the iCM4+, every virtual port got installed again and numbered differently.
So some of those virtual ports now exist twice in windows device manager.
Plugged in: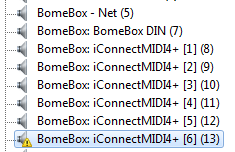 Unplugged: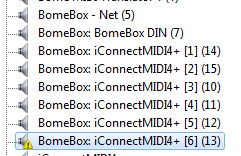 Not only does this this cause device disconnects when unplugging the BomeBox, it also creates a lot of extra hidden devices in device manager.
As you can see in the pictures, it's port 1 and 2 switching virtual port assignments.
I tried deleting the virtual ports and adding them again, which fixed the problem with the 2nd port and the exclamation mark for the 6th.
The first port however, is always installing twice, causing the disconnect.
With hidden devices enabled, it now looks like this: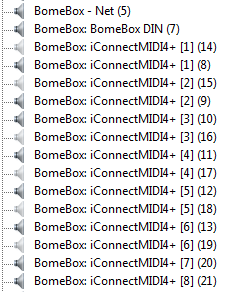 It looks like some ports have the problem, others don't.
Are there ways to prevent this from happening?
Update:
Tried uninstalling all the ports and adding them again one at a time.
When I unplugged the iCM4+, the first 3 ports immediately got double installed again.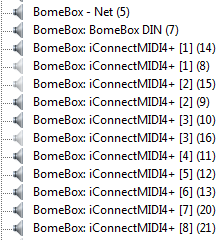 Update:
It gets even weirder, Port 1 actually switches assignment from [1] (8) to [1] (14) when unplugged, but Port [2] and [3] don't. The extra created virtual ports [2] (15) and [3] (16) are never actually used.
Still, when I uninstall them they get re-installed every time the iCM4+ is disconnected.