Thank you so much Steve! I will be trying this at home!
Since we are going back and forth, I have come across an interesting dilemma of which programming path I should choose for my current controller.
To explain this quickly, I have a Novation Launchkey MK. 2 49 midi keyboard. It comes with a helpful programmers reference guide that I have been trying to implement in order to activate the InControl functions of the device.
When you use this keyboard normally as the control surface midi device in Ableton, it is designed to detect this and activate their InControl capabilities which allow the user to switch certain functions of the keyboards knobs, faders, and drum pads.
I want to fundamentally change the functions of this keyboard to cater to my 8 instrument orchestral template. When I began to use BOME to program my controller, I realized that using BOME as a midi device without letting Ableton know that I am using the Launchkey disables the InControl functions and turns on Basic Mapping mode.
To explain this in midi terms, all of the same messages that are being sent for each fader, knob, and button are simply changing their midi channel from 1 to 16. I realized this when I ran all of the actions through the midi monitor while my Launchkey was connected to Ableton in the preferences INSTEAD of the BOME midi device.
The issue is that I want to keep the InControl function on but I still want to swallow some
Midi information so I can use the buttons to switch to different custom mappings without having to configure them while I'm recording. But the programmers reference guide has a solution to this!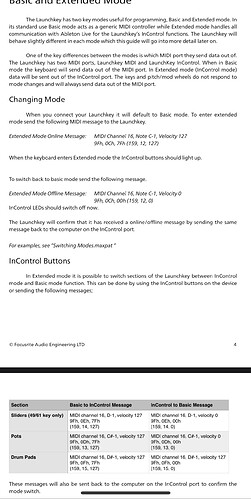 I've posted an image of the reference guide which explains that the InControl function can be turned on manually by sending a midi message to the controller.
Can you help me implement this code either on key command or when the BOME application initializes?
Thanks again Steve, you truly are the best!!! This program is such an essential tool.