Hi, I want to connect my MIDI controller to a VSTi host software and then map the controls (as normal) using the VSTi software's 'MIDI Learn' feature.
For some extra functionality, I then want to use BOME MTP to map some mouse-clicks to the same controller.
I can successfully map all the mouse actions to the controller, using BOME MTP translators, and it works well. I can't seem to map the controls using the VSTi's MIDI learn. It's as if the MIDI controller is ignored by the host while BOME is ̶r̶u̶n̶n̶i̶n̶g̶ installed. If I ̶e̶x̶i̶t̶ uninstall BOME, I can then connect/map the MIDI controller normally - but then obviously I lose the functionality I'd added with BOME MTP.
I'm assuming I just haven't set it up properly or routed it correctly. After reading the manual, I still have no idea where to start, other than it's probably something to do with this?..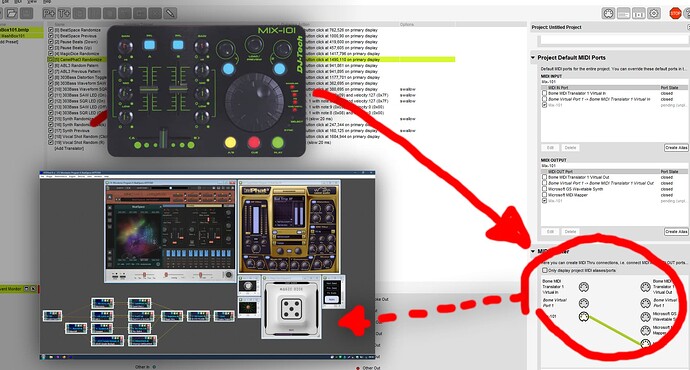 My question:
Is it possible to map part of a controller using the VSTi's 'MIDI learn' and then map other parts of the same controller using BOME? If so, how do I set it up please?.. or will I just need to map everything to the controller using only BOME MTP's translators instead?
Thank you.