Hi, I ran into a problem with FL Studio's 'Receive Notes From' feature.
It's supposed to let you lock one controller to one instrument and not have to focus or select that instrument to play it. You can even select a certain channel for it.
So in the KK editor I set up my NI S61 to send a Harmor preset on channel 2 and DirectWave on channel 3. I kept the first preset as 'FLS' to be the standard output so whatever other instruments are currently selected can be played by that channel. It outputs on channel 1. Technically this should work no problem. I should just switch the preset, the keyboard sends a different channel and I can play that instrument.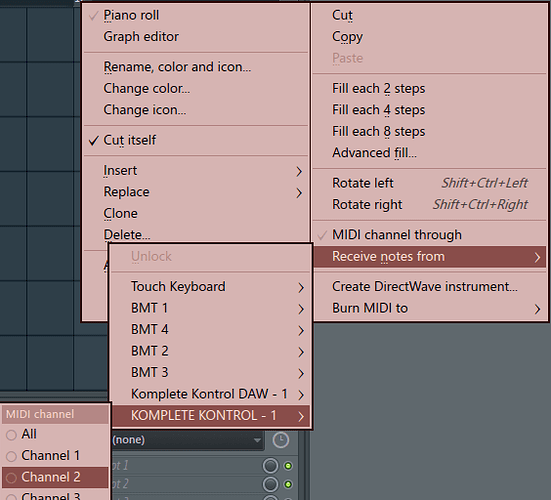 The trouble is Image Line buggered this up too. When locking a MIDI controller to an instrument, it locks out the entire instrument from being used by any other instrument. So if I want to use the keyboard on channel 2 for Harmor, channel 1 doesn't work for anything else at all. Fantastic.
I can lock channel 1 to another instrument, but that's it. Any time I want to use another instrument, I have to manually unlock and relock it again to the new instrument. Otherwise I get no notes at all. FLS can see the notes incoming but won't send them to the instruments.
Just a shot in the dark here. Was wondering if you knew a trick of maybe tricking FLS to make this work. I have MTP's virtual port to use, but it's proving tricky. The There are three NI drivers and they all have a mind of thier own, so the MIDI mode isn't lower level use. It still has hardwired things like the light guide that still work how NI set it up. So anything I've tried so far hasn't worked.
Wondering why MTP can't suppress outgoing messages either. Isn't that what 'swallow message' is for? I have lots of buttons set up that just click on stuff, they don't need to be linked to anything, but it still gets sent to FLS. Why can't MTP simply stop a message after execution? Even when I disable its output entirely and set the translator output to none, it still sends it.